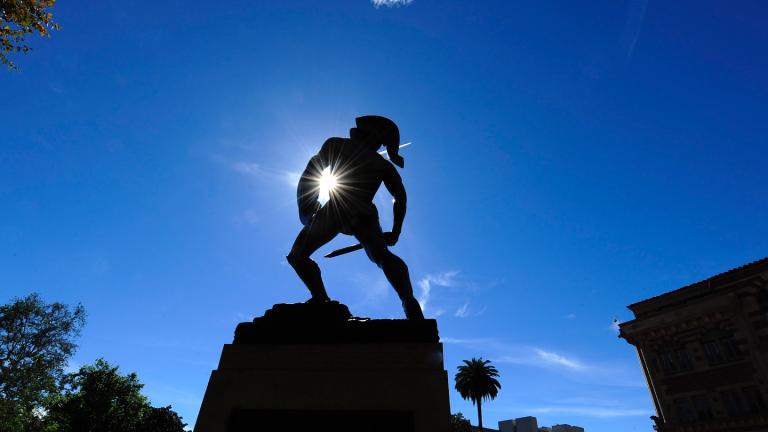 Creating the Future at USC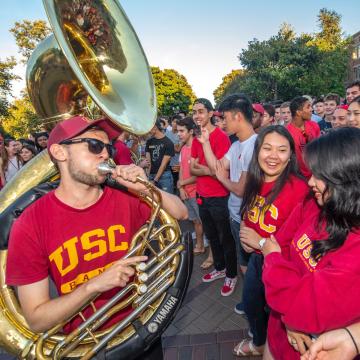 What We Did
Brand Development
Visual Identity
Brand Campaign
Admissions Marketing
Information Architecture
Content Strategy
UX & UI Design
Web Development
Newly installed as president of the University of Southern California, Carol Folt was poised to move the institution forward. Success depended in part on changing public perceptions of the university that were mired in its past. President Folt wanted the world to understand today's USC and how its unique qualities make it the powerful institution it is becoming. 
Reputation = Past.
Brand = Future.
Like most school's reputations, USC's had been shaped and reshaped by everything from news to hearsay.
Replacing reputation with an authentic brand — a textured synthesis of who USC has become and is becoming — was crucial. 
Equally important: unifying the university's sprawling constellation of schools, centers and institutes behind the brand. 
Clarifying the Brand—and the Experience
Through our process of deep discovery with stakeholders we discovered what makes the place tick, what makes it different and why it matters. 
In a nutshell…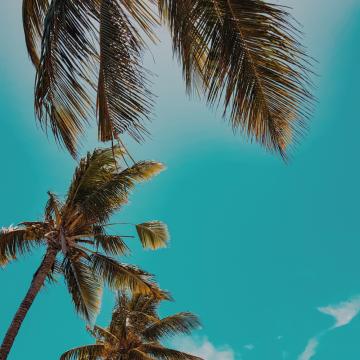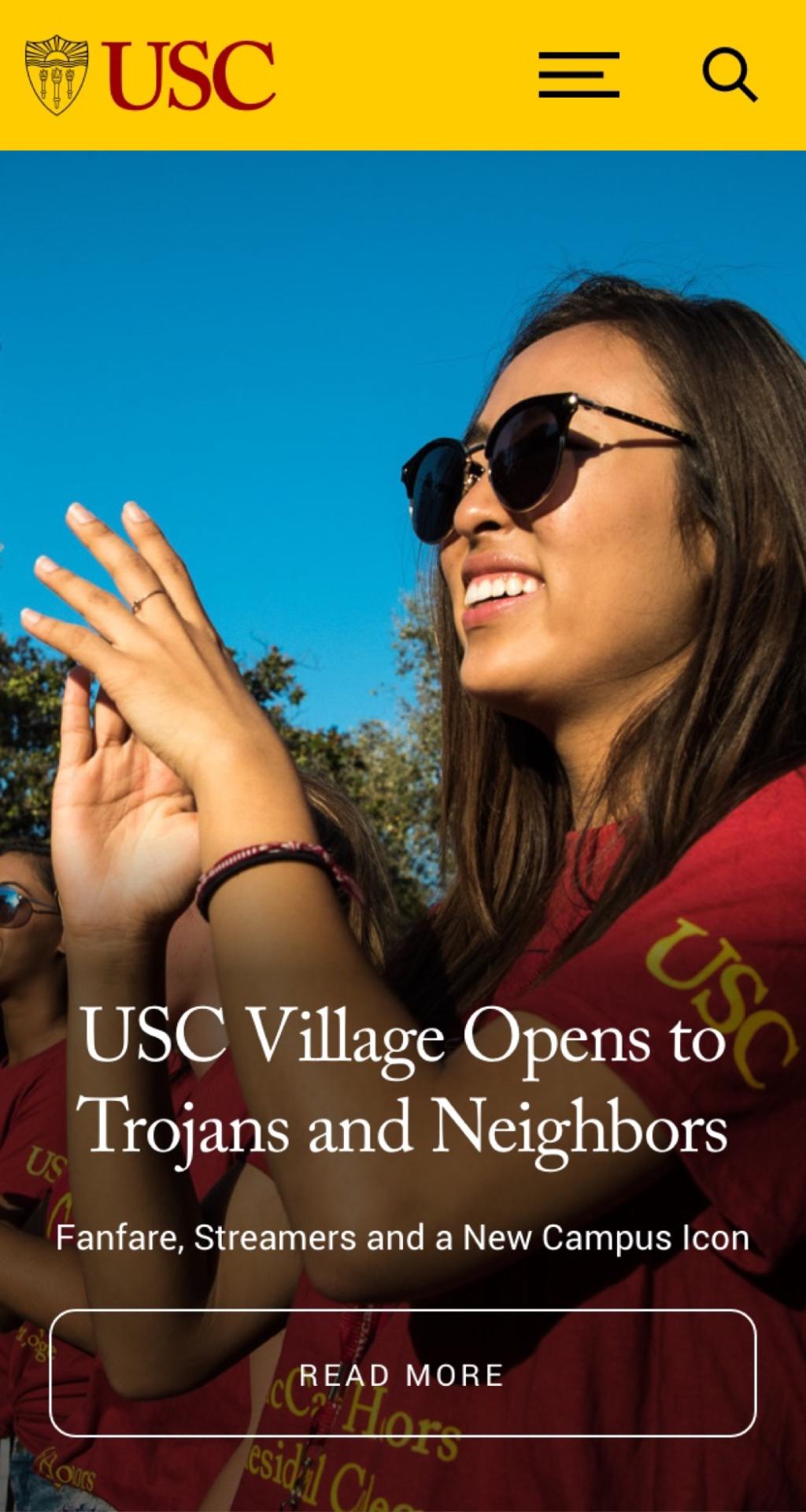 It's an LA thing — USC is quintessentially Los Angeles.
With a clear brand in hand, we had a runway for developing a new USC web presence. Our UX, design and content strategy teams came together to create a flexible, component-based site that embodies the USC difference.
Our Insights
USC Is Los Angeles

The university contributed to LA's meteoric rise, and the city was part of USC's growth. Today they're inseparable. SoCal's creative energy, optimism and diversity shape USC culture.

Fun is a Value

Our discovery process always surfaces some surprises. In USC's case, it was President Folt's insight that true to the spirit of LA, one of the university's key differentiators is fun.

Research Is Thriving

While USC's famed professional schools turn out stars in the arts, lesser known schools and centers are making USC one of the country's top and most innovative research universities.

USC Is Connection

The university creates new possibilities by connecting communities, ideas, and people. Medics and storytellers; geneticists and filmmakers. And possibility creates progress.

It's Not Your Father's Trojan Family

Through a robust affordability initiative and a push for DEI, what was a regional school for the elite has become an elite school accessible to any smart student with talent and imagination. 
USC's many schools and centers engage in unprecedented interconnection and interdisciplinary collaboration. We built a set of components that allows content creators to recontextualize vivid stories and visuals from anywhere in this ecosystem to suit custom themes — while encouraging the curious to follow paths back to the source for a deeper dive."
Karen Costikyan, UX Designer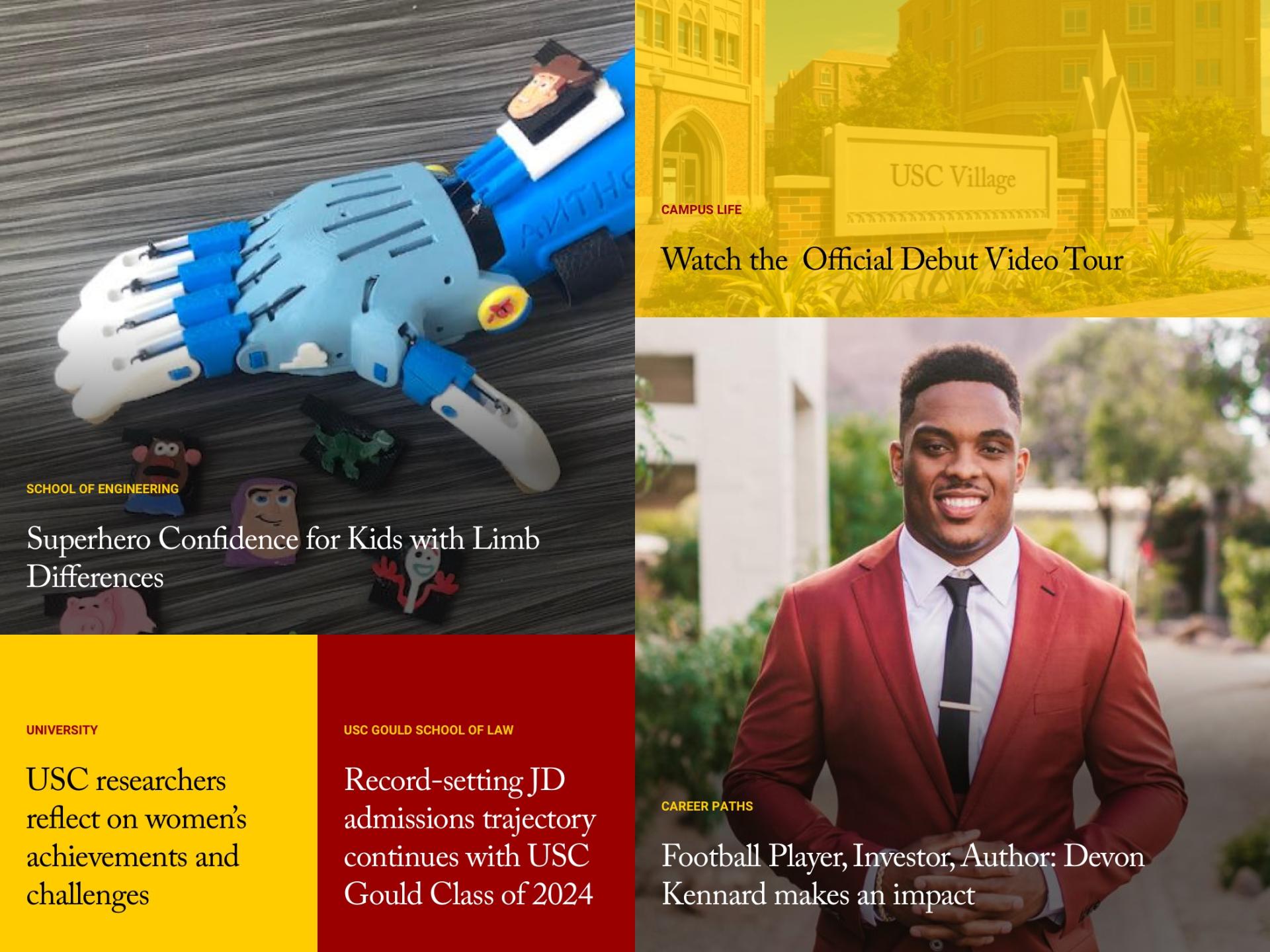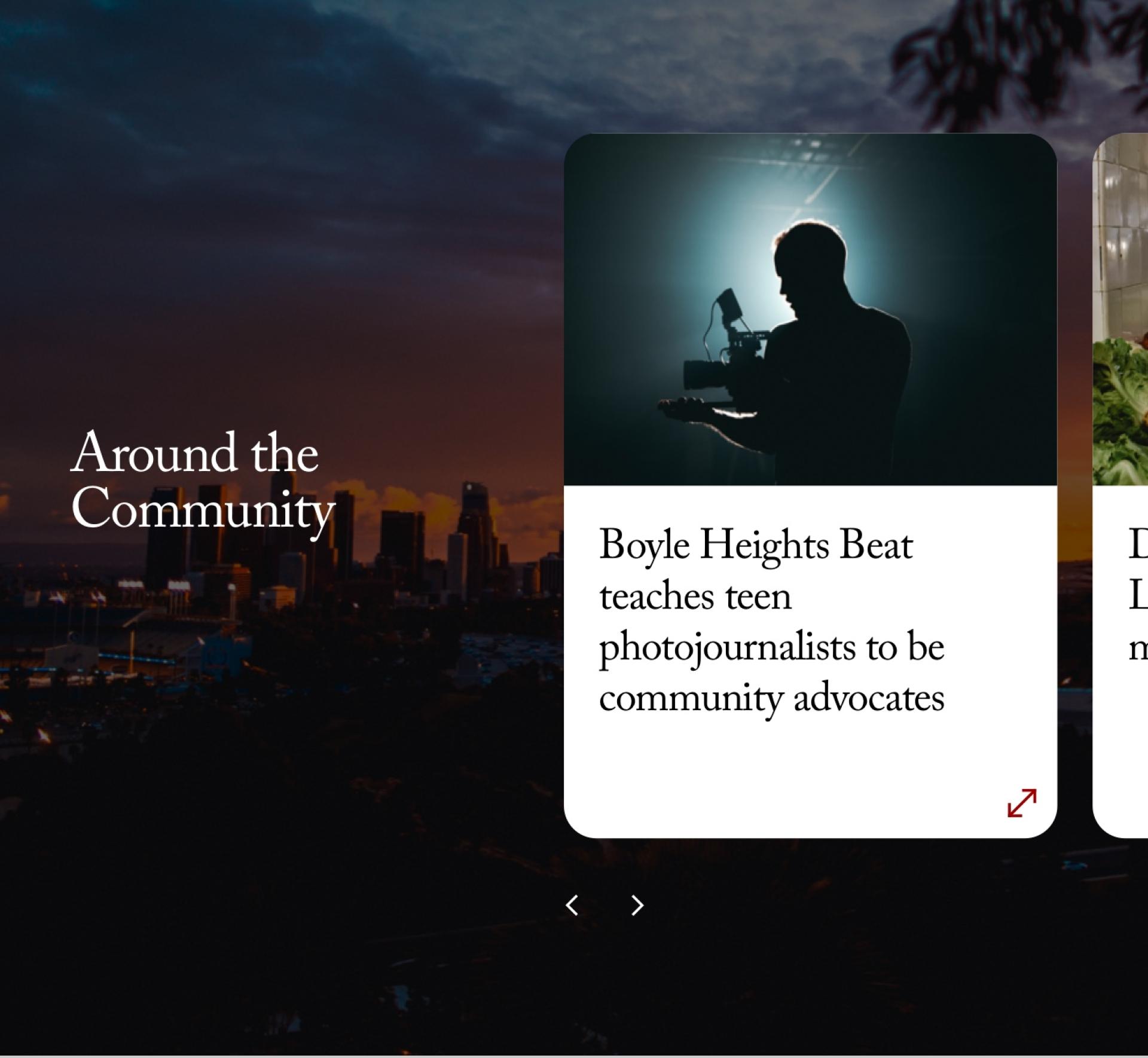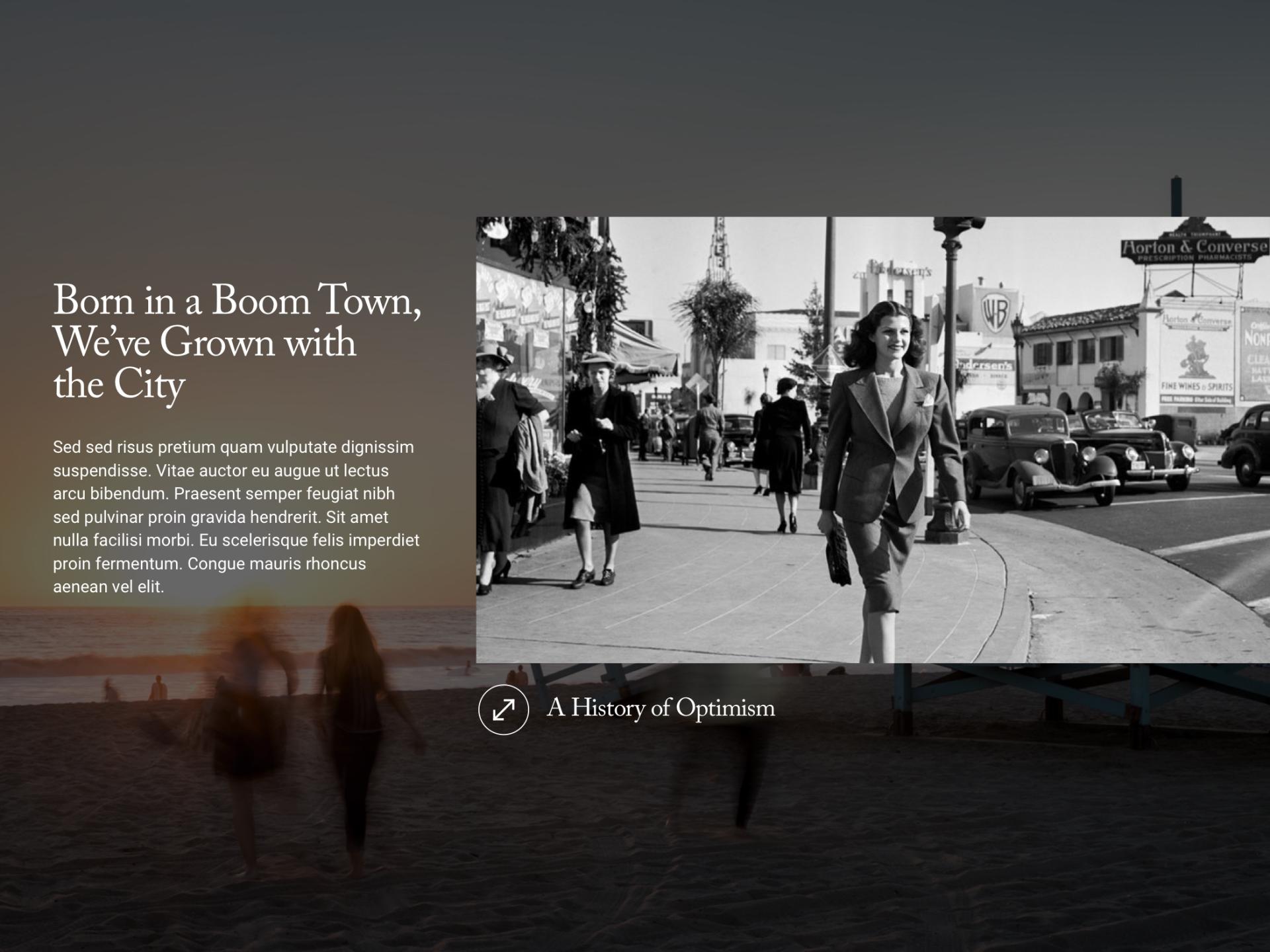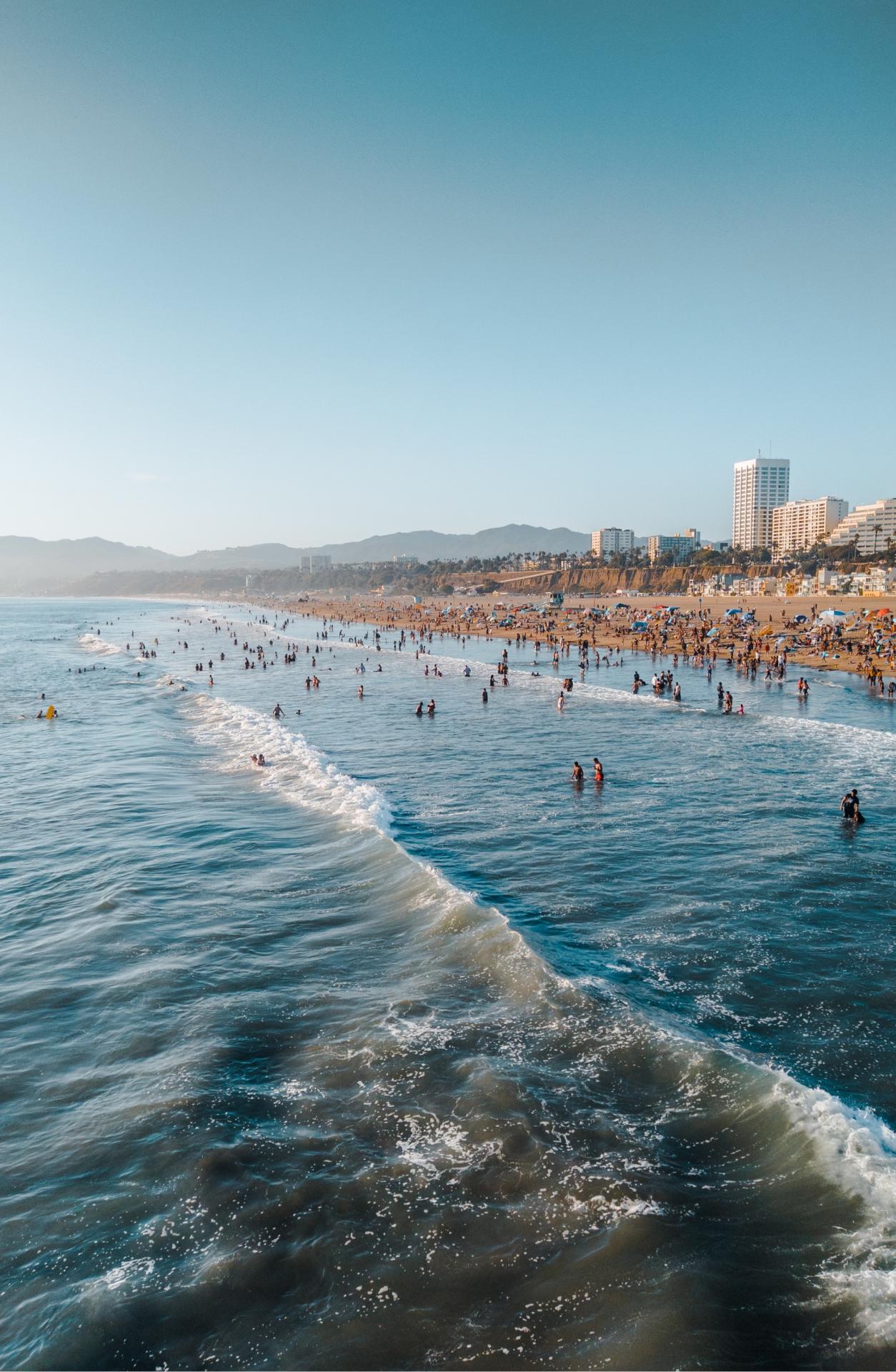 Extending the Brand
Two opportunities to explore brand extensions arose while we were working with USC: USC Dornsife, the university's liberal arts school and a campus lynchpin, and the university's school for health and medical fields, Keck School of Medicine (launching soon). In both cases, we modified and expanded on the components we developed for USC.edu to instill brand consistency while dramatically cutting production costs. Branding, voice and design informed by the USC brand gave each school a unique identity that is also consistent with the mothership's.
Elevating USC Dornsife School of Arts and Sciences
USC's largest and oldest school wanted a messaging strategy and new web presence to represent its growing importance within the USC ecosystem and to the world. The school is taking bold and defining leaps into the future both in education and research. Its Academy In the Public Square initiative is redefining the relationship between academia, government and community.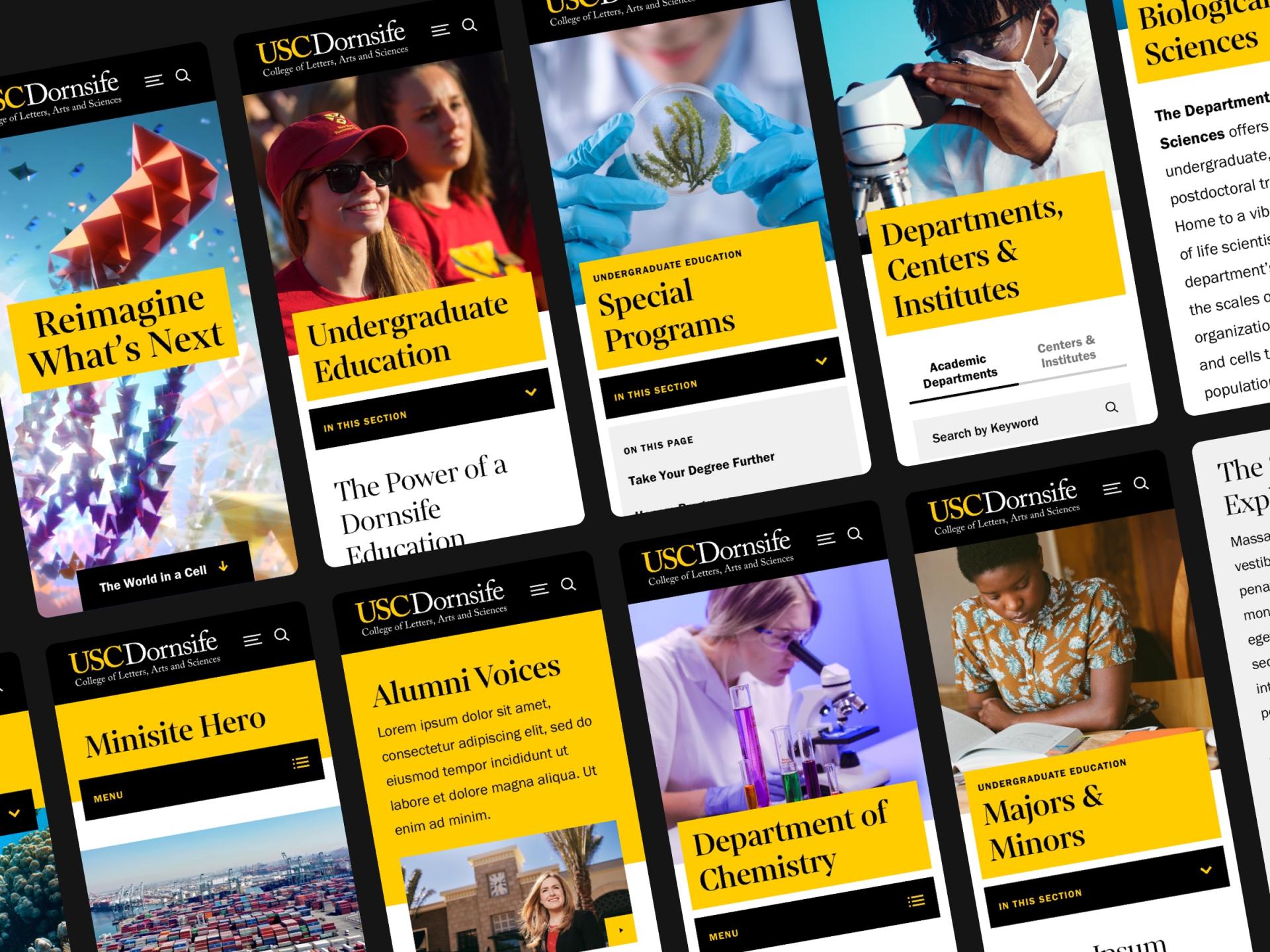 Into the Future: A USC Core Component Library
USC saw the value — both for expediency and brand consistency — in offering not just its schools, but many smaller divisions, too, a single set of components to quickly create their own sites without the need for costly development. 
We are working with USC ITS to "productize" the component system: ready-made components, along with guidance, that can be used to build any future USC website.
The costs and timeline for making a new site using this product are less than half of what they would be for a from-scratch build. And using the USC Core Component Library allows each USC team to focus on the many tasks involved in embodying a brand, from site architecture to copywriting, knowing they will have a beautiful and technically advanced site to present it all.