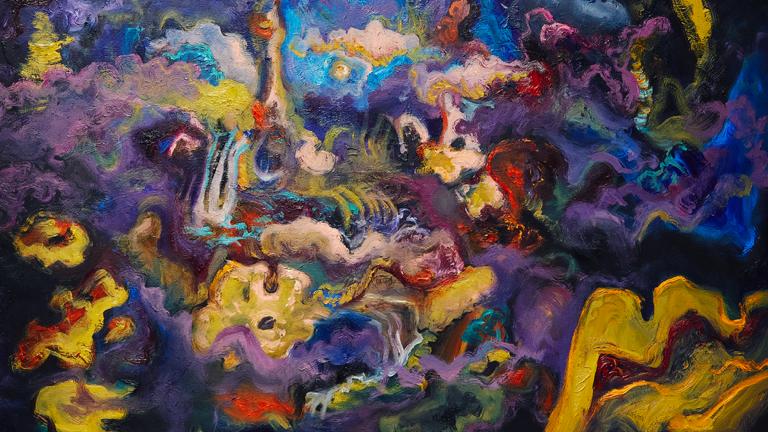 Trumpeting the Visual at SAIC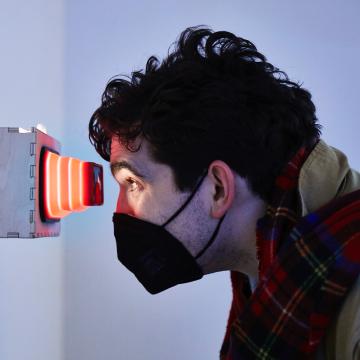 What We Did
Information Architecture
Content Strategy
UX & UI Design
Content Development
Web Development
For more than a century, the School at the Art Institute of Chicago has been at the forefront of art and design education, consistently challenging the status quo and turning out luminaries who show in some of the world's most important exhibition spaces and lead illustrious studios. But you wouldn't have known it from the school's wordy and visually uninspiring website.
Working with Digital Pulp was a dream. The stakes for our web redesign couldn't have been higher, and we couldn't be happier with the results. The Digital Pulp team is strategic, insightful, and flexible. Plus, they're all around great people to work with and I'd hire them again in an instant.
Scott Jason Hendrickson, Vice President, Marketing & Communications
Focused and Fearless
SAIC's historic relevance has always been front and center, but it was getting in the way of their need for engagement. When approaching our redesign, we focused on putting the audience first, while simultaneously reflecting the school's bold ethos. 
A new site had to reflect the school's cultural relevance, communicate visually, and loudly celebrate the powerful creative work that is the product of its teaching.
Seeing Is Believing
SAIC's audiences are visually astute; an eye-catching website design was essential. Using vivid color, bold graphics, and animations, our redesign embodies the boundary-pushing creative spirit that SAIC is known for.
We collaborated with the client team to design a visual system that allowed for impactful rhythm. Each component on a page introduces a new background — either an expressive color from SAIC's official palette or a textural image of a student's work. This collage of color and photography makes each page unique and playful, reflecting the character of the school.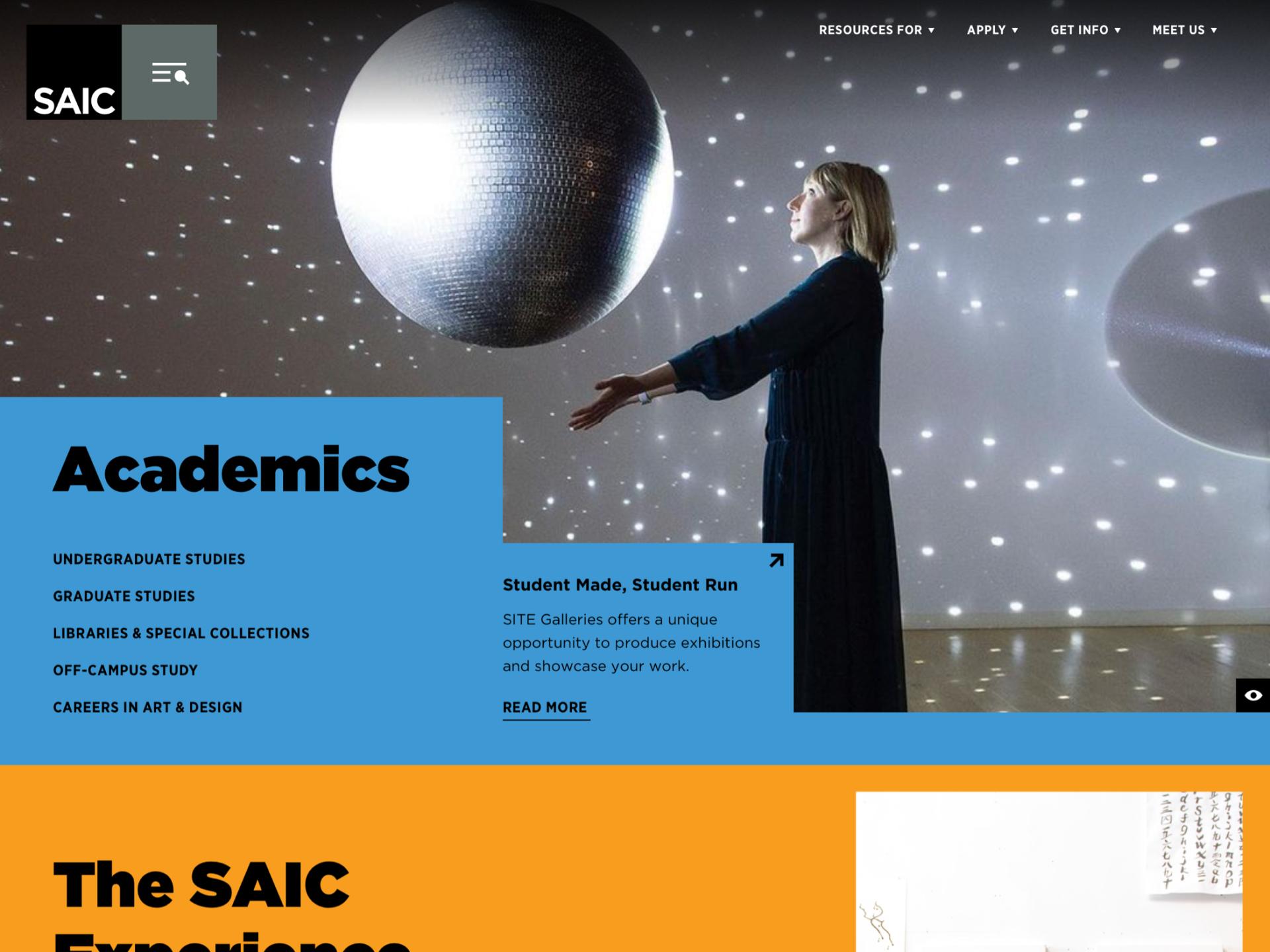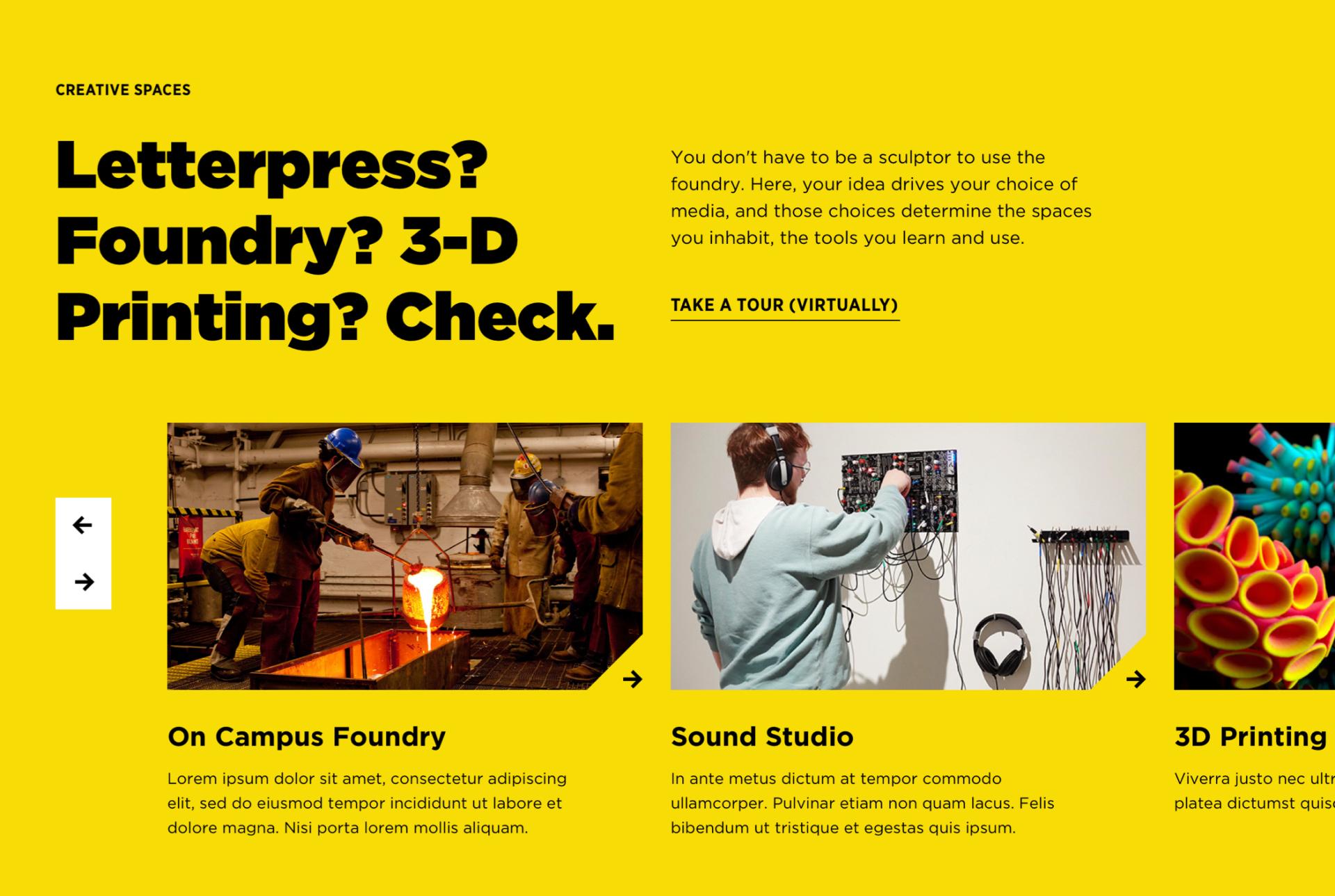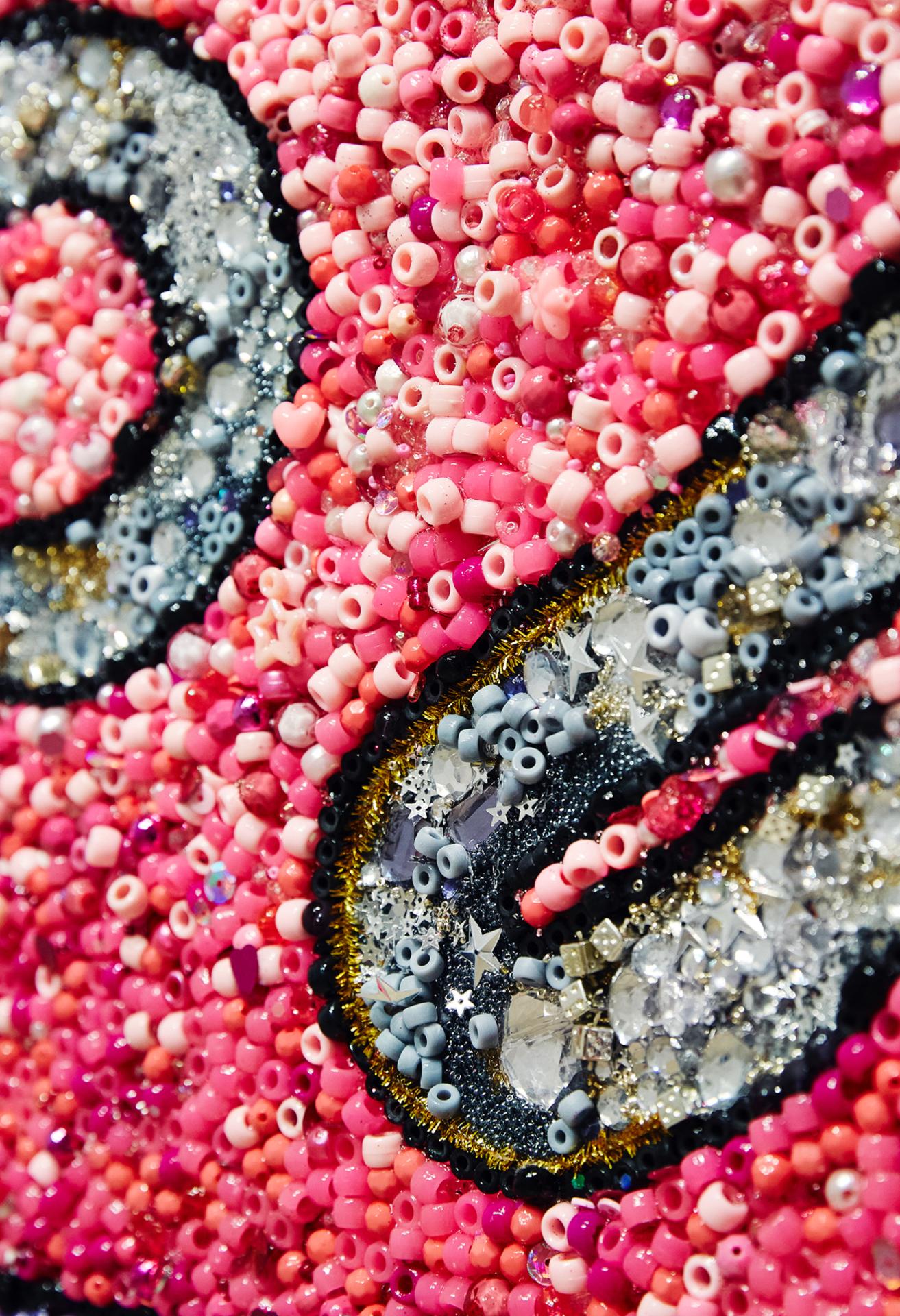 Showing More While Saying Less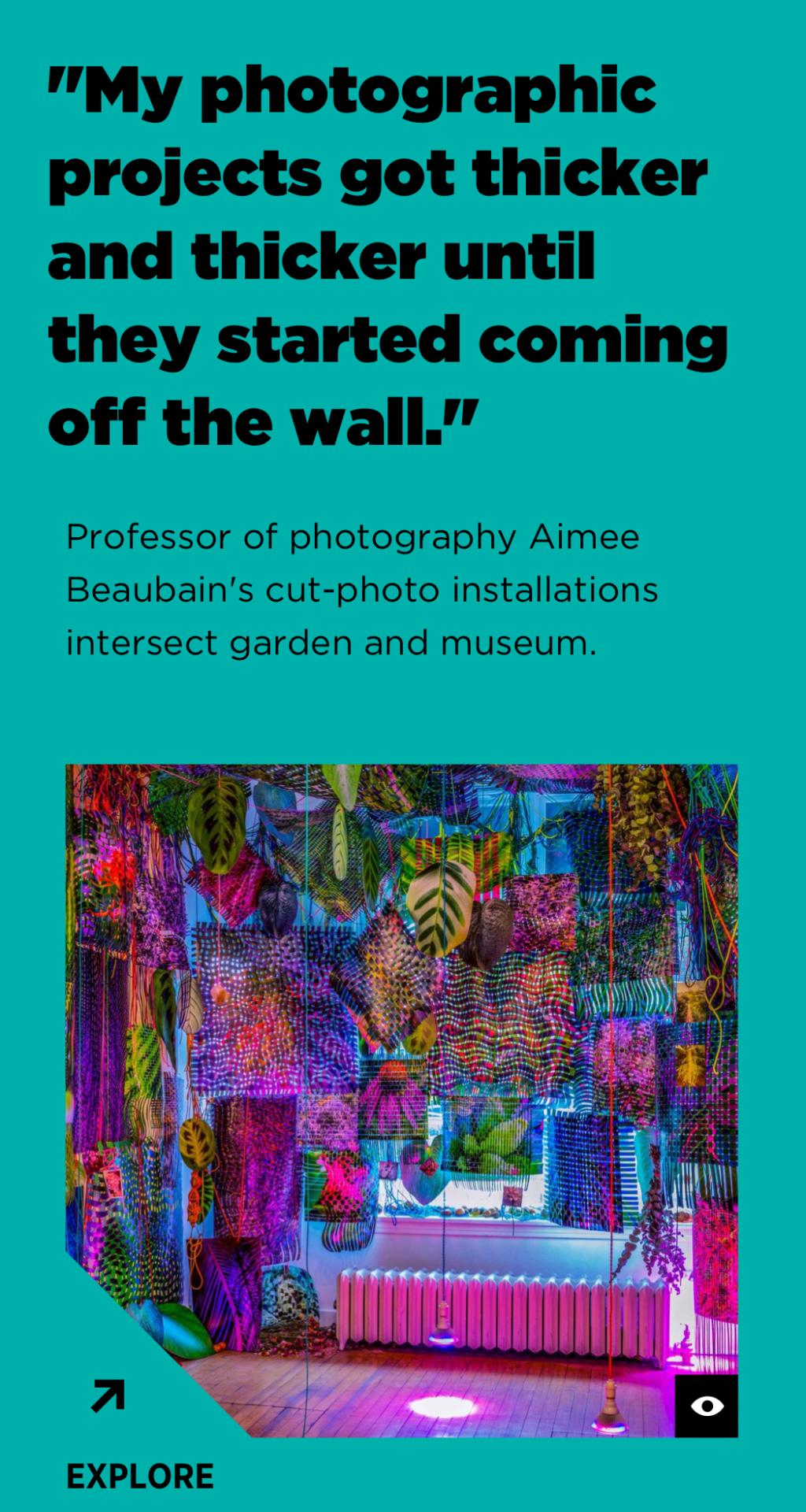 Besides revamping the visuals, we also streamlined the content of a formerly text-heavy site and developed a system of flexible, modular components to create a focused experience that points audiences to the key factors that make SAIC unique.
Our Insights
SAIC Is a Community Immersed in Art and Design

SAIC purposefully blurs the line between students, considered emerging artists here, and their faculty artist-mentors. We emphasize this unique dynamic by highlighting the many ways that students and faculty, along with alumni, are all immersed in their work — and how that immersion binds them together in a close-knit creative community.

It's One With Chicago — and the Art Institute

SAIC is unique among art schools in having as part of its infrastructure and the student experience one of the world's greatest art museums, the Art Institute if Chicago. It was important both to clarify the relationship between school and museum, and to amplify their roles as creative engines and drivers of the city's creative landscape.As the school so often says: "We are Chicago." 

Engaged With the World

SAIC believes that artists and designers must be fully engaged with the world, and that activism or world-shaping absolutely has a place in creative practice. Student and faculty work regularly engages community issues, as well as global ones. 

Driven By Ideas and Interdisciplinary to the Core

At SAIC as in much contemporary practice, the process of making starts with ideas. The work evolves through an exploration of how these ideas can best be expressed. We knew right away that we wanted to highlight the importance of this process, the inspiration and influences that come into play, and how exploration can encompass any and all media. Our site-wide Explore component lets users dive deep into this story of making. 
Users of the SAIC site will encounter beautiful and thought provoking artworks at frequent intervals along their journey — as if they were in the real spaces of the school. We wanted to include a mechanism that invites deeper engagement with these works, allowing users to examine aspects of them in greater detail.
Karen Costikyan, UX Designer
Clearer Picture. More Effective Experience.
The city of Chicago, the renowned Art Institute, influential alumni, a uniquely open curriculum, and a rigorous application of critical theory — by highlighting these features individually and as a collective whole in a dynamic visual experience, we showcased SAIC as the invaluable resource it is both for students and for the creative world they will soon influence.